Iron Student and Family Summer Activities
We are looking forward to getting back together for our returning families and welcoming our new families and students! The school's calendar is located from a tab

above.

Mark these addition

al

events on your calendar

:
Summer R
eading

:
Click (or scroll) on the tab above for "Summer Reading" to get the book for each grade along with the assignment to complete for your son's English course that is due when we return to classes. We are also running a "1000 page Summer Reading Challenge" to promote literacy. See the "Summer R

eading" page for details on this exciting Challenge.
Kids Exchange Fundraiser: Iron Academy is a partner with the Kids Exchange Consignment Sale. We are fortunate to have Amy Winstead, founder of Kids Exchange, as one of our outstanding parents. The Kids Exchange provides a way to buy and sell gently used children's (babies to teens) items. We are able to make this a fundraising activity for Iron Academy by accepting your donation of children's clothing, toys, books, equipment, and furniture that gives you a tax deduction the same as if you donated these items to Goodwill and we sell it at the Kids Exchange with IA receiving the proceeds! Iron Academy is a 501c3 nonprofit school. For any of our items that are left over after the Kids Ex

change sale, we

donate

them

to the Missions Thrift Store to help fund missionaries around the world!
If you have any clothing, particularly winter coats, that your children have outgrown or furniture, bikes, or sports equipment in good condition that your children no longer need, then contact Anne York at IPF@ironacademy.org to arrange for pick-up of the items by Saturday, July 1

6

. We also need a few parents who are available

between

July 1

7

to 19 to put price tags on the items and take them to the sale at the State Fairgrounds. For any questions, contact Anne York.

Thanks for your help!
Triangl

e Rock Club on

Tuesday, July 26, Noon to 2:00: We will have a fun social
e

vent

for students and their siblings to

d

o indoor
r

ock climbing at Triangle Rock Club at 6022 Duraleigh Road, Raleigh, 27612. Cost is $10 per child cash or check payable to Iron Academy and given to Anne York or Heather Mauzy at the event.
Please do sign this e-waiver before your child(ren) attends.
We need to tell Triangle Rock Club how many will be attending and we want to help with carpooling if your son needs a ride. Please use this SignUpGenius (click the logo below) by Sunday, July 24 to let us know that your son and any siblings will attend and if you are able to give a ride to another student or if you son will need a ride to this event.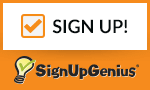 Coffee, Doughnuts, and Prayer

at the

drop-off for Crucible Camp on Monday morning, Aug

15:
Please plan that you can stay for a few minutes after our sons are dropped off for Crucible Camp to socialize with the other parents and to have some time for open prayer for our sons as they take this important first step to learn about our Honor Code ("I will always conduct myself as a gentleman, live pure, speak true, right wrong, follow the King") and begin their journey toward biblical manhood

and being gentleman scholars.
U
sed Uniform Sale:
Be on the lookout at the beginning of August for a SignUpGenius that will list all of the

used

school uniforms and new spiri

twear

clothing that we have to offer! We will list the clothing by size and quantity so that you can choose which ones you want and we will arrange delivery and payment for the clothing at the drop-off for Crucible Camp or first days of school. The used clothing prices will be about half of the Land's End prices

, such as youth size used polo shirts with logo for $10 rather than the $23 Land's End regular price.

Click on the "

Dress Code

" tab above for information about the school uniform policy and how to order from Land's End.

More details about the used uniform sale will be distributed at the beginning of August.
Back to School Family Picnic on Falls Lake on Satu
rday, Aug 27:
We are looking forward to fun fellowship for the whole family! We have reserved Shelter #2 at the Falls Lake Sandling Beach area, 14605 Creedmoor Rd, Wake Forest, off of Creedmoor Rd about 3 miles north of Hwy 98. We will meet for dinner and p

lay

time, starting at 3:00. We'll distribute a SignUpGenius the week before the even

t for our potluck dinner.